In the latest look at what our client's are doing, we're back to Blaze Farm in Wildboarclough. As well as an award for best small visitor attraction in the Cheshire and Warrington area, the farm were previous winners of the Cheshire Farms Diversification Award. Not content with standing still, they've embarked on the next stage of their diversification by entering the holiday rental market. The first of their luxury studios is 'Swallows Next', which opened its doors last year.
Swallows Nest is the perfect place to unwind, relax and explore the amazing area. There are public footpaths accessible from the door. Local towns of Macclesfield, Congleton and Buxton all within a short drive. The studio boasts all mod cons including under-floor heating throughout. It's also kitted out with everything needed should you wish to stay in to cook. However, if you fancy dining out, there is a fab local pub a mere 5 minute walk away.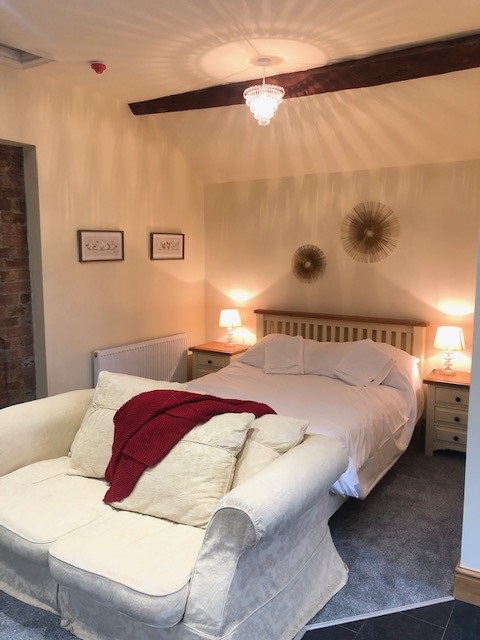 It's the perfect hideaway for couples and an ideal base to explore an abundance of great walking routes such as The Roaches, The Cloud and Shutlingsloe. Due to the current lockdowns in place across the UK, travel is not permitted until at least April. But when it allowed, Swallows Nest is the perfect place to come and unwind.
Katy is a Superhost
A stay at Blaze Farm means you'll have access to the onsite ice cream parlour and tea room, which are open all year round from Wednesday to Sunday. Not only that, but Katy is an Airbnb superhost: "Superhosts are experienced, highly rated hosts who are committed to providing great stays for guests."
This is the perfect excuse to show the Widgets for Airbnb Reviews plugin by Trustindex.io. Considering this is a free plugin, it includes a lot. You can display up to 10 Airbnb reviews using one of 35 different layouts and 16 pre-designed styles. Nice! We had the most wonderful time at Blaze Farm! Everyone was so welcoming and kind, including the animals, Samuel the Cat especially. The bed was ridiculously comfy and the flat a good size with everything you could need. Can't recommend this airbnb enough, especially for animal lovers, it really was fantastic.
An extremely comfortable stay in a well equipped, beautifully located part of the countryside. The place was very clean and finished to a high standard. Everything worked great. Flo was fantastically helpful, friendly and funny and her staff were all terrific too. Freshly made chocolate brownies were divine! It's on a working farm so really nice to see all the animals too. Would gladly return!
We found this was an excellent place to stay for visiting The Roaches and all the best SE peaks hikes. Really great communication and truly excellent ice-cream! would stay again
Lovely accommodation, brilliant Peak District location - views, walks on your doorstep and if you like some challenging hills on your road bike, it will be perfect. Katy was very welcoming and the family on the farm made me and my partner feel genuinely comfortable. So, great and I'd thoroughly recommend Blaze Farm.
We had a wonderful time staying here in the Peak District. The flat was spacious, clean and beautifully decorated, with all of the utensils and equipment we needed. Katy and her family were very welcoming and helpful, accommodating to our requirements. The complimentary hot drinks and cake were very much appreciated. There is also a lovely pub with delicious food in walking distance (albeit on the country roads). This is a great place to stay for some peace and quiet. We look forward to visiting again! Thank you Katy and family!
What a gorgeous place! Fantastic facilities and the accommodation is finished to such a high standard. Staying on the working farm it was lovely to see the animals and get a little taste of farm life. Make sure you (Hidden by Airbnb) it beforehand - Blaze Farm, a lovely tearoom with delicious cakes and a wide range of delicious ice cream flavours made on the premises. Lots of friendly animals (the cats were especially sweet). A great host and location with so much to do nearby. Didn't want to leave - the photos just couldn't possibly do it justice!
Great location and farm! And the ice cream was perfect. Everything you need in the apartment, with a lot to do on the doorstep too
The swallows nest is a lovely get away, great location that's nice and quiet. The animals on the farm are super cute, there's a duck with the best hairdo ever. The cafe is nice and the ice cream is amazing. Great pub down the road for food or a drink! Highly recommend!
Swallows Nest was a really great stay, the host family were really friendly and helpful with our questions about the area. It's a great spot for visiting the Roaches and Three Shires Head. The place was clean and a cosy spot for me and my boyfriend. The coffee, cake and ice cream in the tea room were delicious. Katy was really helpful with directions to the place and Florence was so welcoming when we arrived. We'd definitely stay again.
A little gem. Lovely room, well appouinted and everything you need for a break.
Some great news to finish off. The builders are currently hard at work at the farm, putting the finishing touches on a camping barn, two more studio apartments for two guests and one that sleeps four. Katy is of course excited, but also dreading about all the cleaning she'll have to do! For details on all accommodation at Blaze Farm, check out their site, which also includes links to their Airbnb and Sykes Cottages listings for all the latest rates and availability. Alternatively, for direct enquiries ring: 01260 227 229 or email: [email protected].
If you'd like to enhance the web presence of your rental property, contact Melted Media now and we'll gladly talk this through with you.