Released on 9th March, WordPress 5.7 "Esperanza" was the first major WordPress update of 2021. It's the first of three planned releases of the world's most popular website builder this year. In this post we take a look at the new features included. As "Esperanza" is the Spanish word for hope or expectation, we'll of course let you know if the release meets ours. But first, the name… the latest release is named in honour of Esperanza Spalding, a modern musical prodigy. The update focuses on a number of different areas and you can find out more below.
Block editor improvements make it easier to use
We've tended to use a page builder such as Elementor on our most recent builds. However, plenty of our clients still use the bundled editor. We plan to write about the pros and cons of both approaches another time. Today though, we're focussing on WordPress 5.7 here, so on to Gutenberg.
To keep up with the shift towards visual builders, the new Gutenberg block editor was launched in WordPress 5.0. Eventually, the ambition is to allow full site editing with the block editor. WordPress 5.7 includes further progress towards this goal. There's plenty of improvements in this latest version, here's a list of the stand out ones:
Drag and drop your content – you can now simply drag and drop a block from the inserter into your content area. This means you can choose where you place it before dropping it onto the canvas.
Impress with full height blocks – with this enhancements, you can create layouts that fill the entire height of the screen. This allows you to create some visually stunning layouts.
More options for buttons – you can now chose a vertical layout as well as horizontal, plus you can set the width of your buttons as a percentage.
Updated social icons block – you can now adjust the size of your social media icons, so it's up to you how much focus these have within the page.
Adjust font sizes in more blocks – you now have the ability to adjust the font size in more block types including the list and code blocks.
Improvements to reusable blocks – making them more stable and easier to use.
Lazy-loading of iFrames
Lazy loading is a technique that's used to defer the loading of resources until they are on the visitor's screen. The principle is more often associated with images. It gives a performance boost and improves your page speed score. This is because only those images that are "above the fold" are downloaded by the browser on the initial page load. WordPress 5.5, released in August 2020, introduced native lazy loading into WordPress core. This automatically adds loading="lazy" to the image tag when a width and height attribute are both specified. Since this latest WordPress update, this functionality is now extended to iFrames. This will bring performance benefits for all our clients who embed YouTube videos within their posts.
One-click migration from HTTP to HTTPS
All our clients already run on HTTPS and any new projects come with this encryption as standard. We are able to do this at no extra cost because of Cloudflare's Flexible SSL technology. Since July 2018, Google Chrome has shown a "Not Secure" warning for all pages served over HTTP. The other major browsers quickly and rightly followed suit. Migrating from HTTP to HTTPS is not something you need to worry about with new sites. These can be set up securely from the off, but there are still plenty of legacy sites out there running on HTTP.
Before now, you had to either use a plugin to do the migration or do yourself. We've done the latter before now on a few projects. Although it is not too complicated – it basically requires a search and replace directly in the database tables – it would certainly have been more straightforward to have WordPress do it! The new one-click migration facility means WordPress will automatically update database URLs when you make the switch. Not only that, but WordPress detects if your site's environment supports HTTPS, so the option to migrate is only available if it is supported.
New Robots API
Probably the most technical thing we'll cover here, but WordPress 5.7 also introduces a filter-based Robots API. This will provide a means to control the contents of the robots meta tag. This in turn allows you to have a page-specific approach to controlling how an individual page is indexed and served to users in search engine results. By default it will include a directive which allows search engines to display large image previews for a better user experience. We're struggling to think of practical use cases for our clients right now, but as an example, we may see plugin developers use this functionality to stop members-only pages of a website from being followed by search engine robots.
A new streamlined admin colour palette
WordPress previously came with a limited set of colour schemes in the backend. Further to this, because of how this system was set up, it was difficult to introduce new ones. The new simpler colour platter collapses all the colours used in the WordPress admin CSS down to seven core colours with a range of 56 shades. Crucially, all the colours in the new palette meet the current web accessibility guidelines. This new version has a higher contrast between light and dark colours, making it easier to read the admin area for users who are colour blind.
Other goodies in WordPress 5.7
5.7 includes no fewer than 127 bug fixes and 66 enhancements. Amongst the other changes not already covered above, there a couple worth a mention. There has been user interface improvements to the reset password screen. Talking of resetting passwords, there is now a feature that allows website administrators to manually send a reset password link to existing users. This is going be pretty handy in certain situations.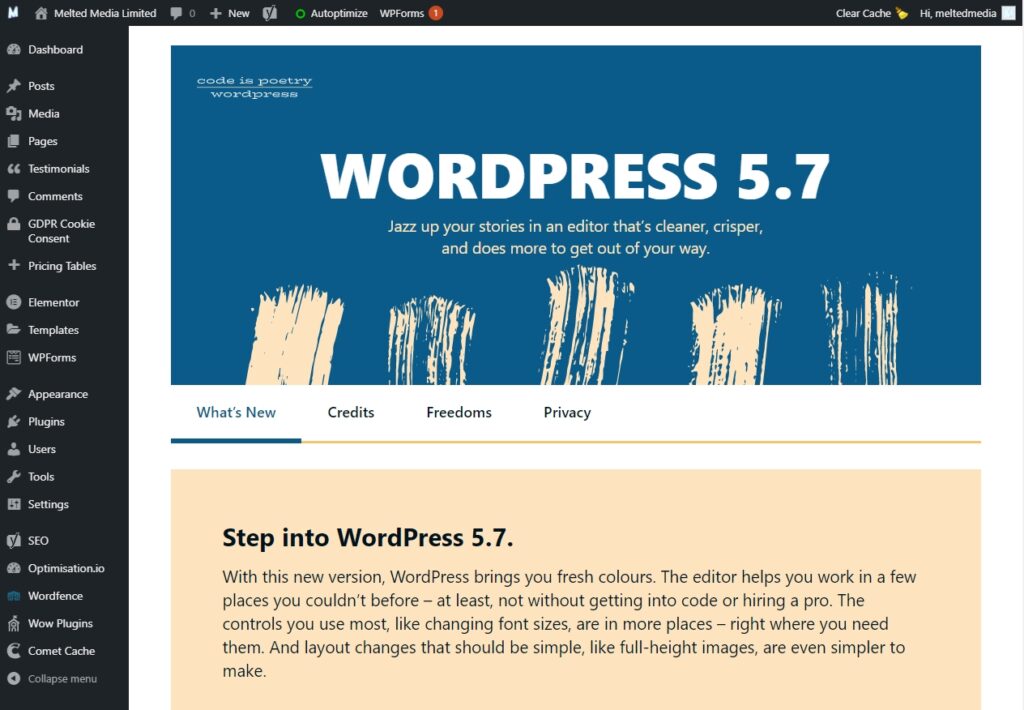 There are also a bunch of developer-focused changes made in 5.7. These allow new features to be supported in themes and plugins. Last but not least, the ongoing clean-up of jQuery continues, since its update in WordPress 5.5. If you're unfamiliar jQuery, it's a fast, small and feature-rich JavaScript library. For years its helped do things that basic tools couldn't. Until recently WordPress core used a very out of date version of jQuery. With that in mind, there is an initiative to bring it up to date over time.
All our WordPress clients have already been updated to Esperanza. We both hope and expect that they'll be more than happy with the latest version and the enhancements and new features it brings. If you have a WordPress site and would like to discuss migrating over to our managed WordPress service, contact our team today.