The back street pub in question is The Bruce Arms in Macclesfield. Regulars of the pub ourselves, the Melted Media team have been looking after the pub's website needs for nearly 20 years. Their first ever site was launched back in 2002 and built using the now obsolete technologies of ASP and VBScript. When a new landlord took over the pub in 2019, he got in touch with us. It was time for a refresh and we rebuilt the site in WordPress, using the Spacious theme by ThemeGrill. This is an incredibly good multipurpose responsive theme, which can be used for a business, portfolio, blogging or any type of site. This post isn't really about that though…
The challenge
The management company behind the pub, Stevenson Pub Co, have set out to build an empire. From back street pubs to fine-dining, their portfolio is always expanding and comprises of a wide range of pubs and other hospitality businesses, situated all across the North West of England.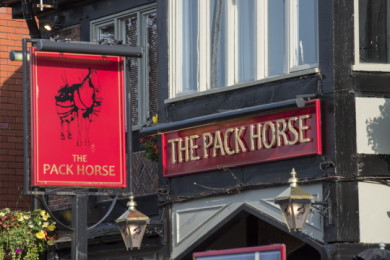 Now it's safe to say that the hospitality industry has had a tough 15 months or so. It will be at least another month before things return to be like something that resembles normal, if that's such a thing nowadays. Tie that together with the fact the landlord of the Bruce Arms and Director of Stevenson Pub Co knows the value of a pound. Maximise profit and minimise cost and all that! "Can you build me a really good website for next to nothing?", he asked. Well, if anybody can, we can! The bribe of beer obviously helped a little bit here as well to be honest!
The method
If you're a regular reader of our blog, you'll probably know where this is going. Correct, our trusted friend the Astra theme. If you are looking to build a visually impactful website on a low budget, you need look no further than Astra and one of its pre-built starter templates and importable website demos. And that's exactly what we did, although on this occasion we did try a few different options out before settling on our favourite. The template we ended up going for was originally designed for Real Estate sites, so actually lent itself quite nicely to showcasing the various establishments in our client's portfolio.
We kept to our promise and brought this is at a very low cost. Like other recent projects, we sourced icons to use throughout the site from Flaticon, the largest database of free vector icons online. We mainly allocated the rest of the time to the content, on this project we wrote all the copy on the client's behalf. There was no need to use any plugins on top of those we use as standard either. One recent addition to our typical bundled WordPress set up is the WebP Converter for Media plugin though.
As part of a in-house project to improve page speed score on our own website, we also retrospectively installed this on some client sites after seeing positive results. WebP is a next-generation format for images. The plugin automatically generates WebP versions of standard JPEG, PNG and GIF images, which can save over half of the weight of a web page without losing any quality. This will be a good for your visitors as they will not have to download as much data, but also your hosting will use less bandwidth. On top of that, a more optimised website will positively impact your Google ranking.
Raise your glasses
Another job well done, even if we do say so ourselves. The client was definitely happy and yes, we did get a few pints on the house. If you would like a beautifully designed website at a very low cost, then speak to us now. We accept payment by bank transfer, cheque, cash and now also alcoholic beverages! One final thing… good luck England in the delayed Euro 2020 tournament! We'll be in the pub cheering the Three Lions on!