Happy birthday to you
Happy birthday to you
Happy birthday dear WordPress
Happy birthday to you
Can you believe on this day in 2003, WordPress was born. 18 years old today! You might call it a "coming of age", but WordPress has long been the world's most popular website builder. It has consistently beaten all contenders to the throne as and when they came to market. In this post we take a look down memory lane. From the start, all the way through five major version updates and to the present day. The founders probably had no idea that there were about to start something that would become so big.
What was the inspiration behind WordPress?
The founders of WordPress are Matt Mullenweg and Mike Little. They were both users of the b2/cafelog blogging software, when its developers decided to discontinue it. Rather than find another platform, instead they decided to build a new one on top of b2/cafelog. It would be the start of a journey. That journey would see the open source communities collaborate to make something extremely useful. The entire project would become driven by this community of developers, users and supporters. It would go on to benefit so many people, even creating a whole industry of creatives that make a living off the platform and its ecosystem.
The first and early versions of WordPress
It was on this day back in 2003 when the first version of WordPress was announced by Matt. As mentioned, WordPress was based on b2/cafelog but with significant improvements such as an admin interface and new XHTML 1.1 compliant templates. Just a year later and version 1.2 was launched. This was the first real game changer with the introduction of the plugin architecture. Developers could now extend WordPress by writing their own plugins.
As WordPress was building a community, competing proprietary platforms were making licensing changes. This inadvertently started a mass migration to WordPress. The more users that adopted the platform, the more help from its community it would get to evolve. And evolve it did, when just 9 months later version 1.5 was launched. This included pages, comment moderation and a completely new theme system and default theme called Kubrick. This new theme system was incredibly flexible and paved the way for theme development as we know it.
WordPress from late 2005 to 2007
In December 2005, version 2.0 of WordPress was launched. It had a new dashboard in the admin area, which itself had a complete overhaul. The user interface now used JavaScript and DHTML which meant users could perform simple tasks without the page reloading. This was also the first release that came bundled with the Akismet plugin, which is a comment spam filtering service. On a popular website, it could be as little as 15% of comments that are legitimate. With that in mind, having a plugin automatically deal with the other 85% is a godsend to website owners. Last year, Akismet reached the milestone of 500 billion (yes, 500 billlion!) spam comments blocked. Wow! Another significant addition in this release was the introduction of the functions.php file into the theme system. This allows you to add PHP code to add or change features of your WordPress site.
In 2006, Automattic, the company founded by WordPress co-founder Matt Mullenweg, trademarked the WordPress name and logo. It was at this point that the company really started to grow the business and brand. In August of that year, the first WordCamp was held in San Francisco. WordCamps are annual events where users and developers get together and discuss all things WordPress. The following year, Beijing hosted the first WordCamp outside of the United States. Later that year, Automattic purchased Gravatar. Gravatars are the avatars you see next to your name when you interact on WordPress sites. This acquisition would be the first in a series of purchases Automattic made to help improve the WordPress platform.
WordPress from 2008 to 2010 and huge strides forward
2008 saw the launch of the WordPress Theme Directory. Now anyone could build and upload a theme for others to use, subject to passing a quality check. Also, during that year, work started on designing a new admin interface. Features like one-click updates and built-in plugin installation were added to WordPress over the various releases to follow. Shortcodes also made their first appearance from WordPress 2.5, which would allow people to execute code inside WordPress content without writing any code directly.
2010 was a busy year for WordPress. In June of that year, Automattic transferred the ownership of WordPress trademark to the WordPress foundation. The foundation was founded to Matt Mullenweg to further the mission of the WordPress open source project. In Matt's own words:
People and businesses may come and go, so it is important to ensure that the source code for these projects will survive beyond the current contributor base, that we may create a stable platform for web publishing for generations to come.
This action coincided with the release of WordPress 3.0 in June of 2010. The inclusion of custom post types opened the gates to all kind of customisations to content types. This is without doubt the moment WordPress truly became a CMS rather than just blogging software. It was now so much simpler to extend the core WordPress codebase to meet more complex requirements. This release also came with Twenty Ten, which started the practice of a new default theme each year.
WordPress from 2011 through to 2013
2011 saw a few key features we probably couldn't live without nowadays. Post formats were introduced. Rather than just a standard default post format, theme developers could now define visual styling and layout for a post based on its format. This meant post formats like galleries, images, quotes, video, audio and chat transcripts, could be styled specifically. Another addition that year was the admin bar. This is the floating bar that shows on your site when logged into the admin section. It includes shortcuts to the important admin features. At that moment in time, WordPress powered over 12% of websites in the world, surpassing the 50 million mark. WooCommerce would also launch that year, meaning WordPress could also now be used to power online stores.
2012 was when the theme customiser and theme previews were introduced. It was now possible to preview your site with a different theme before changing. The media manager was also added, making images galleries to use in posts was now super easy. 2013 and WordPress would be 10 years old and version 3.7 launched with a new automatic update feature. It was now the most popular CMS platform around. A new responsive admin interface came at the end of that year in version 3.8. Administering WordPress would now be as easy on mobile devices as it was on a desktop. The admin dashboard was also revamped with a new look and feel.
WordPress between 2014 and 2018
On to 2014 and WordPress 3.9 was released and the main focus was an improved visual post editor. Images could now to be dragged and dropped straight into the editor. Live widget previews and audio playlists were other notable enhancements. Both version 4.0 and 4.1 were released that year with continued refinements to the core codebase. 2014 was also the year when the number of English downloads was overtaken by non-English downloads. In 2015, versions 4.2, 4,3 and 4.4 were all released. Improvements were made to the localisation and emoji support and the theme customiser. You could now upload a site icon rather than use a third party favicon plugin. The initial infrastructure for the REST API was also put in place. This was also the year when Automattic acquired WooCommerce, which would go on to become the most popular ecommerce plugin for WordPress.
2016 was another year with three releases, WordPress 4.5, 4.6 and 4.7 all introduced. More streamlined updates for plugins and themes came that year. Also, one of our favourite features to this very day, which was allowing custom CSS to be added through the theme customiser. The preview button was added, so you could quickly see how your website looked across desktop, tablet and mobile devices. In 2017, WordPress 4.8 and 4.9 were released, which included improvement to widgets and the addition of some new ones in order to make adding different types of content much easier. It was the foundations for the new block editor that would released in version 5.0. There were also more improvements to the customiser and the introduction of the WordPress text editor for quickly making small code or CSS changes.
WordPress version 5 to the present day
WordPress 5.0 was launched in 2018 with a completely new editor. The new block editor, Gutenburg, used a completely different approach. It offered a simple way to add different types of content to your posts and pages. We'll be writing about Gutenburg and other page editors like Elementor very soon. Version 5.1 was released in February 2019. As well as performance improvements to the new editor, it also saw the addition of WordPress's first site health features. These including showing notices to administrators of sites that ran long-outdated versions of PHP. It also included a compatibility check when installing new plugins. Version 5.2 was released in May 2019, which added even more robust tools for identifying and fixing configuration issues and fatal errors. There were also a number of accessibility updates to improve contextual awareness and keyboard navigation flow for those using screen readers and other assistive technologies.
Version 5.3 of WordPress was released in November 2019. It came with over 150 new features and improvements to the block editor and even more robust tools for creating amazing designs. As the block editor celebrated its first birthday, the Twenty Twenty theme was launched. This showcased the possibilities of the editor. Admin email verification was added so you were now periodically asked to confirm that your admin email address is up to date when you log in. This reduced the chance of getting locked out of your site. WordPress 5.4, launched in March 2020, with a clearer UI and navigation for the block editor. The editor was now 14% faster to load and 51% faster time-to-type! This version also helps with a variety of privacy issues, so when asked about regulatory compliance, the answers should be a lot easier to get right.
In August 2020, Version 5.5 was released. This version saw the introduction of lazy-loaded images. In other words, images wait to load until they're just about to scroll into view. This had a real positive impact on performance, particularly on mobile devices. Auto-updates for plugins and themes was also seen for the first time. This is one of our favourite ever enhancements as it vastly reduces the effort it takes to keep a client's site up to date and secure. The final release of last year, in December 2020, was WordPress 5.6. The latest theme, Twenty Twenty-One was launched and gave even greater layout flexibility. It also marked the first steps toward WordPress Core support for PHP 8.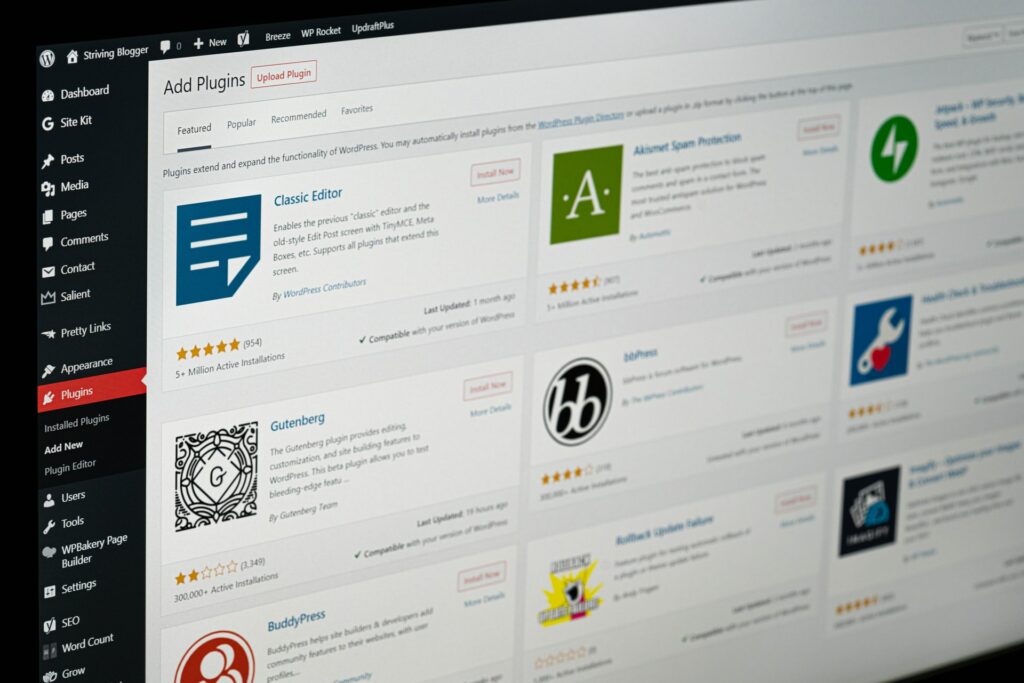 That brings us almost up to the present day and version 5.7 "Esperanza", released in March 2021. If you're interested, we've written a dedicated post about the most recent major WordPress update in 2021. WordPress continues to improve and keep its place as the mot popular CMS, supporting millions of web publishers around the world. We certainly wouldn't swap it for anything.
Are you running an older version of WordPress and thinking about upgrading? Speak to WordPress specialists Melted Media to discuss your requirements today.