We've briefly touched upon the image resources we use on projects before. We can't sing their praises enough as it allows us to use attention-grabbing photos at no additional cost to our clients. In turn, this means we can build an entry level WordPress site for just £250+VAT! There are a number of great websites where talented creators post their work. These photos can be used freely for both commercial and non-commercial purposes. This post focuses on the two that we think are simply the cream of the crop, but there are many more and we'll give honourable mentions to the best of the rest.
3 million free stock photos and videos from Pexels
Pexels is a free stock photo and video platform that helps designers, bloggers and anyone else who is looking for visuals to use in their projects. Use Pexels to find great photos and videos that can be downloaded and used absolutely free. If you see a photo or video you like, simply download it for free, no strings attached! You can use it on your commercial website, blog, product or anywhere else. You can search by popular photos, trending photos or see what other people are looking for.
We've found that we're often using work from the same photographers and if you want to find a photographer whose photos you can use regularly, Pexels is a good choice. The platform gets it contributors engaged by having regular contests with cash prizes. The current active challenge is to upload a photo to raise awareness for animal welfare. Pexels also ranks its contributors based on how many views their photos have over the previous 30 days.

Beautiful free images and and pictures from Unsplash
Unsplash uses the tagline "photos for everyone" and that is spot on. The platform includes over 2 million free high-resolution images brought to you by the world's most generous community of photographers. They hand select every photo and accept only the best, so you're guaranteed only quality stunning imagery here. Unsplash has a community of over 200,000 photographers, from those that click as a hobby, to professionals who do as a day job. That same community has gifted millions of their own photos to fuel creativity.
Unsplash was born for the exact same reason we use it today, out of the pain of finding great images to use in creative projects. A neat part of Unsplash and one that sets it apart from other free photo sites is its collections feature. Users of the site are able to create collections by curating photos they come across. If you want several similar photos of a specific theme, the collections feature is a great option to try. All images downloaded from the platform come under the Unsplash license, which makes them free to do whatever you want with.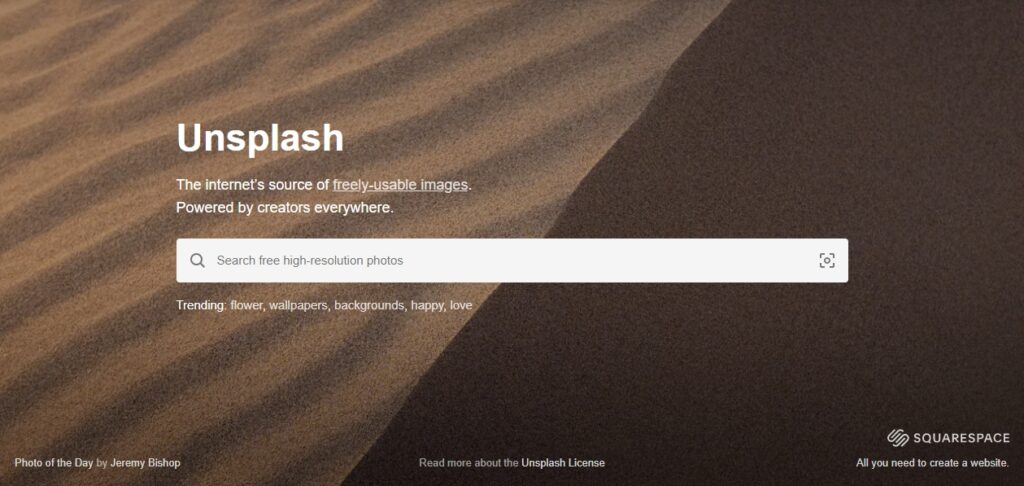 Why Pexels and Unsplash stand out from the rest
Both these great sites offer an API. The fact they do this means that developers can, with relative ease, integrate them with their websites or apps. This leads on to our next point… both have WordPress plugins available. These plugins helps you search, browse and download Pexels or Unsplash photos directly to your WordPress site. Adding an image to your posts is super easy. With one click the image is added both to your post and automatically downloaded and added to your media library. This integration saves the need to search the platforms directly. By using the plugins, you don't need to download the image and then upload to WordPress, not only making it easier for you, but saving you time.
We've used stock imagery on a number of recent website builds. We created a stunning holiday rental site with WordPress using photos sourced from Unsplash. A brochure site built in WordPress earlier this year, used images from two Pexels contributors. We also use imagery from both platforms on our own website.
More great sites for finding free stock photos and images
If you think it's time to refresh your website with some high impact visuals, then contact our team today.