Simply put, we use Wordfence to protect our clients websites with the very best WordPress security there is. Wordfence includes a web application firewall and malware scanner built especially to protect WordPress sites. Once you install in your WordPress environment, the plugin automatically updates with the newest firewall rules, malware signatures and malicious IP addresses. This should give you everything you need to keep your website safe.
We came across Wordfence three or so years back. A company contacted us and asked to help get their hacked website cleaned and back online. It wasn't a client of ours, but we were happy to try and help. We installed a few different security plugins and got the website back up and running. However, it remained vulnerable and was compromised again soon after. In came Wordfence. Once we installed the plugin, it found and repaired the problems in less than 5 minutes. It also identified out of date themes and plugins, which we subsequently updated. Crucially, it then provided the protection needed to stop it happening again. At its core are the firewall and security scanner.
WordPress Firewall
Wordfence includes a Web Application Firewall (WAF) that identifies and blocks malicious traffic. It protects your site against a host of common web-based attacks. Specifically, i t protects against those that target WordPress and its themes and plugins.
WordPress Security Scanner
The Wordfence scanner checks core files, themes and plugins for malicious code. It compares your website files with the WordPress.org repository and reports any changes to you. Repairing them is as easy as clicking a button, which overwrites the files with the original versions. It's just as easy to delete files that don't belong on your website. The scanner also checks for known security vulnerabilities and abandoned plugins. For further peace of mind, it also checks all your posts for any suspicious content.
Wordfence Central
We'll also set up your site in our Wordfence Central account. This gives us a powerful and efficient way to manage the security for all our clients sites in one place.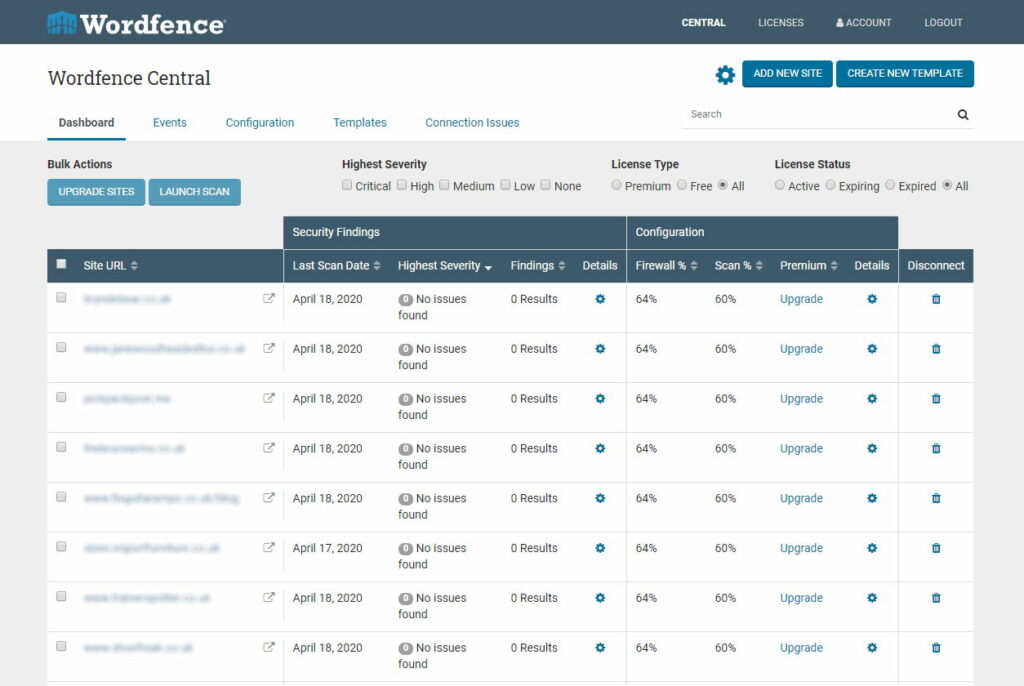 Wordfence is one of the features included in our typical WordPress set up. It's always one of the first things we do after installing the core platform. Just in the last 30 days, Wordfence has blocked no fewer than 4.5 billion attacks on WordPress sites.
There is a premium version of the plugin available, which provides more advanced powerful features like real-time protection. The free version is one of our favourite plugins though. Without fail we will install it on every WordPress build we do. We simply would not recommend creating a WordPress site without bundling Wordfence with it. It's an amazing plugin, very simple, yet very effective.